2012 first season, Effingham County, IL. Day 1 April 9, a few gobbles from the roost 400-500 yards away from me, once they hit the ground LOCKJAW. Everything is so green and grown up it made it tough to hunt the timber so I moved out to a clover field, my buddy Steve was about a ¼ mile east of me and didn't have any luck either. I did have one hen walk through about 7:30. We moved to another part of the farm and at about noon had a bird gobble, we figured he was about 200 yards west of us, so we moved across the field to the edge (about 80 yards) and set up, we no more than sat down, I yelped and he gobbled from about 40 yards. Steve was about 25 yards up the hill (north) of me and I was on the field edge. He popped up at about 10 yards from Steve and busted him, I don't know how he did it but he did. The whole thing only took about a minute and he was gone. No shot.
Day 2, April 10th, cold wind from the north, my buddy Steve went about a mile and a half south from where I was. I set up at the south edge of a field, only about 150 yards from where the bird busted us the day before, but a different field. The cold wind made me move after about 50 minutes, same story, gobbles from the roost but nothing when they hit the ground. I moved down into the bottom field where were busted the day before and say 4 hens out in the field, I set up there for about an hour and nothing. So I moved again to a road that goes through the timber to the field I originally set up on. I was about 100 yards from the field and about 100 yards from the bottom road that runs along a creek. The road has a bend in it so at that bend I could see both the bottoms and the field and anything that wend east-west had to cross that road and I would see it and it would see my decoy. I was only sat down about 2 minutes and saw a bird walk out into the road down in the bottoms. I couldn't tell at that point if it was a hen or tom. I yelped with my slate call and it stopped and his head turned white, then red. I saw his back swell up as he turned towards me, and I said please don't be a jake, then his tail fan opened up and YES a FULL FAN. I yelped with my mouth call and he busted into a full strut. He started walking up the hill directly towards me, he was looking directly into the sun and he had all the colors going on, he was beautiful. Now the interesting part, he was coming up to my left, I'm left handed so I thought OK, I'll shoot him right handed, then I thought he's coming slow so I have time to get situated and get turned, when he got at about 22 yards I could see the side of his head perfectly so BOOM!. He did a back flip about 4 feet in the air and it was over. This is the first bird I've ever shot and busted his wing, he must have been still in a strut but the thick cover made it a little hard to see all of him. 20 lbs, 8 oz. 8" beard, 5/8" spurs. My buddies bird, 22 lbs, 8oz. 9-1/2" beard, 3/4" spurs.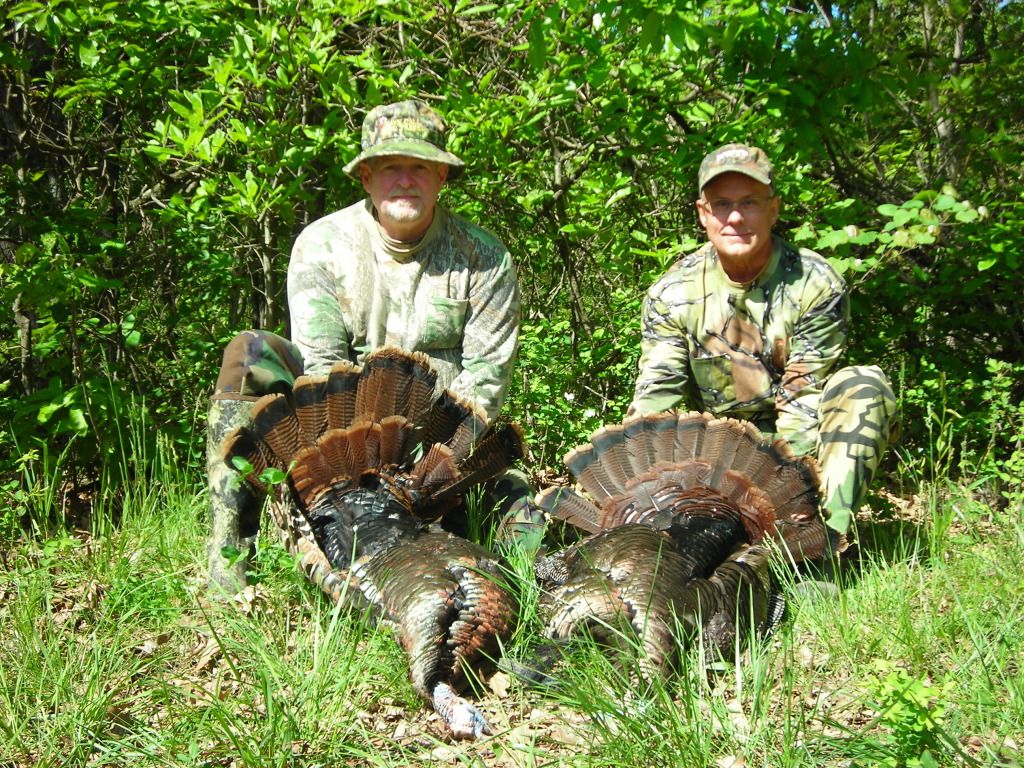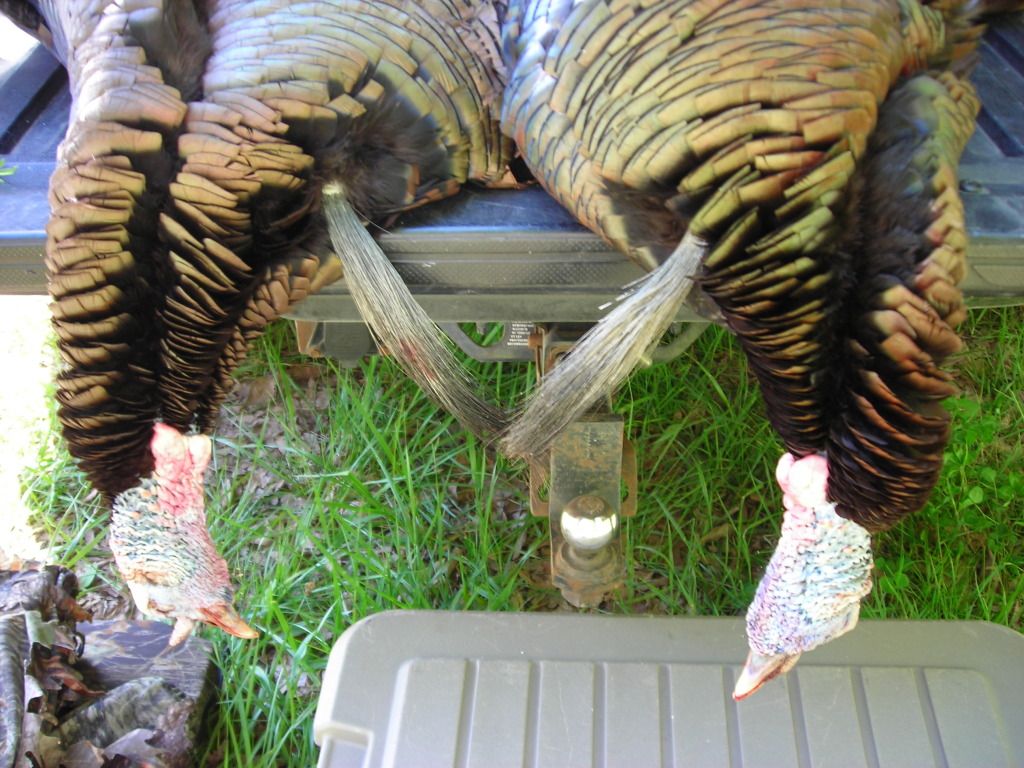 Now it's off to Florida in the morning for a 3-day hunt.