Here's where we camped for the three nights. By the third night, I had acclimated to the altitude and slept like a log.
The scenery out there just isn't done justice by the pictures. But here are a few to give you an idea what it's like.
Day One
My son picked me up at the SLC airport shortly before midnight, and we made the 2 hr and 45 min drive up to the camp where we'd be staying and hunting. We arrived there at 2:30 and the alarm went off at 4:00. I wasn't able to nap any but if felt good to stretch out for a while after being in the plane and car and airports for the previous 14 hours.
We got to the pre-selected parking spot where we began our trek at 9000'. My brother and nephew had roosted a group of birds the night before about ½ mile down off the road. They thought they group consisted primarily of jakes but figured there was big boy or two in there with them. It's often hard to tell with merriams.
We got to the spot and waited for gobbling time, but only heard two birds gobble one time on the roost. We were in good position but they never responded at all to our calls, and never gobbled again on the ground. That was the first indication of what we were going to encounter on this trip.
Here was our first setup.
My son was mighty tired after getting only an hour of sleep.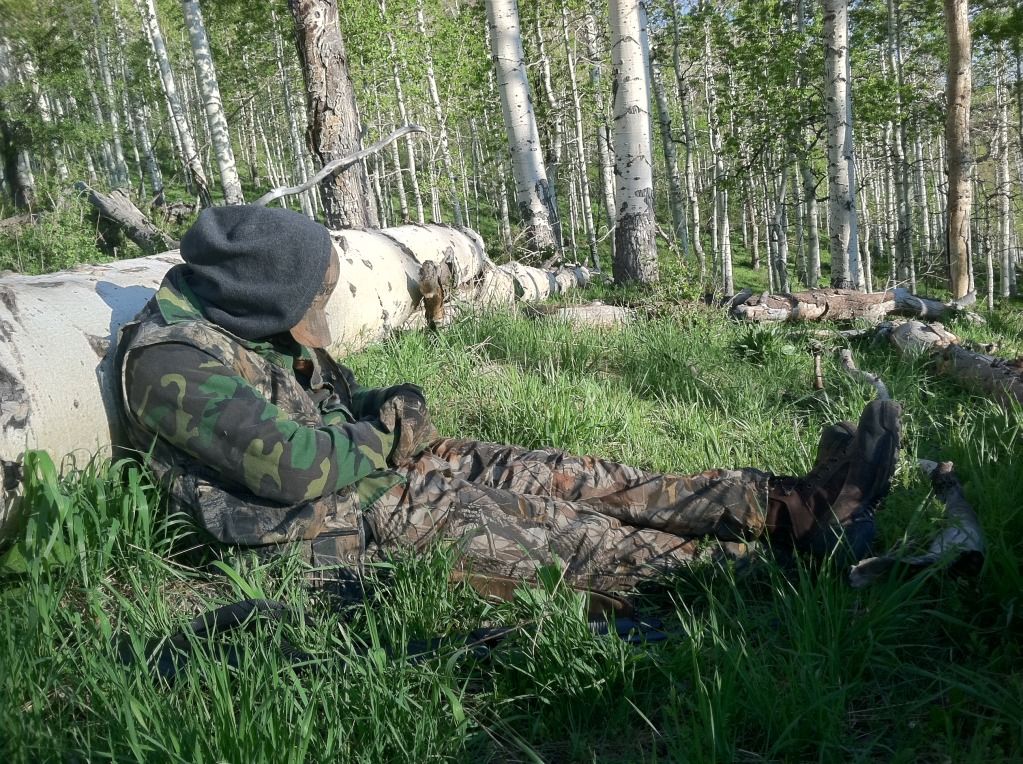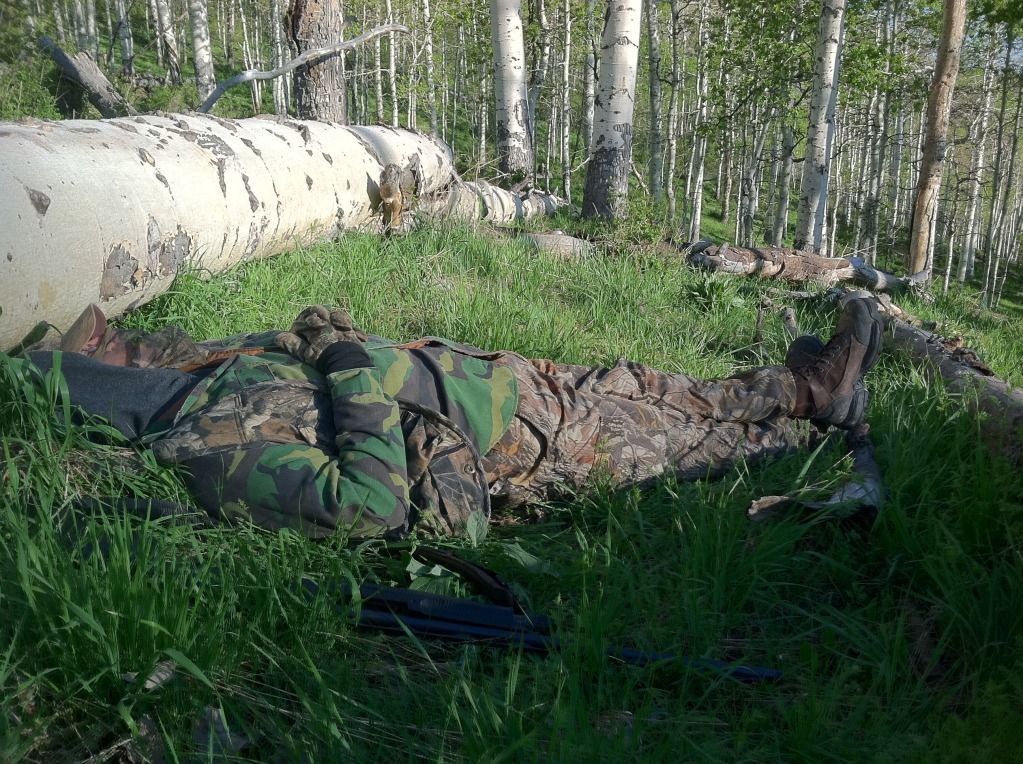 We heard our first post-roost gobble about 8:00 when a plane flew over. That's one of the best shock gobbling inducers out there. Planes were the only sign of human civilization we encountered, other than the occasional dried up cow pattie and a cattle tank the Forest Service put in where a natural seep came out down in a beautiful meadow.
We started after the gobble we heard, and got an occasional response to our calls at a distance. But the group went away from us, and we never got close enough to set up on them at all. It was like there was gobbler repellent on our calls.
After chasing the group around for a couple hours, we split up to prospect in fresh areas. My nephew went with me, and my brother went with my son. My brother and nephew had already filled their tags a couple weeks before we got there, so they were guiding us.
At about 11:00 I got a jake to half-way gobble at us, so we set up there to call, not knowing if he was by himself or in a group like the previous bunch was.
We didn't get a response and I wanted to ease a bit closer. As I got up to move, my nephew said, "don't move, there's a jake directly behind us." I froze and out of the corner of my eye saw not one, but two jakes coming in from directly behind us. The first was much bigger than the second, and they both already had their adult wing speculum feathers almost fully in, meaning the moult was already well underway. The big one's head looked just like a gobbler's, and I was looking hard for spurs and a beard. I kept them close for a while with clucks and purrs, and he gobbled once at me. His gobble was entirely indistinguishable from a mature bird's and I wondered if I was going to regret letting him go. I watched them walk off with a heavy dose of second guessing myself. But he never strutted and seemed like they just wanted some company rather than any interest in breeding.
In the meantime, my son and brother got back on the gobbling group we had chased earlier, with the same result – they were repelled by hen calls.
At about 2:00pm, after a very painful trek back up the mountain in the high altitude and thin air that was killing me but not bothering anyone else, we met back up at the truck, and went to camp to eat some sandwiches and plan what to do in the afternoon.
Two things we noticed after the first day. First, there were no hens around. Didn't hear any, didn't see any. Second, the gobblers/jakes were bunched up together, and didn't want to come to hen calls.
We decided to completely leave the area and go try to roost some birds elsewhere. But the end result was hearing nothing. Merriams gobble so well on the roost in the evening, that if you don't hear anything, there's a very good likelihood that nothing is around.